Hits: 7
An interesting week in wine which took us from the rustic south-east of Washington State via sunshine in Puglia, southern Italy to cap the week at the peak of Montalcino for a first encounter with the sublime Case Basse di Soldera.
John Williams, owner and founder of Kiona Vineyards, was the star at the Cottage Vineyards wine dinner at Dot Cod Restaurant on Wednesday June 25.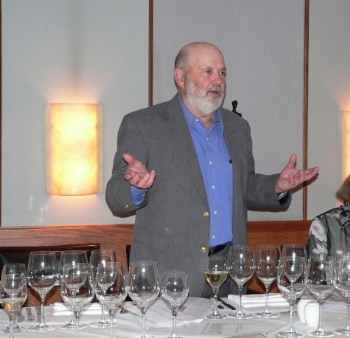 There are certainly better winemakers than John Williams, but I have never met someone more enthusiastic talking about his adventure in winemaking, in practically desert land with only 7 inches of rainfall a year.  
It all started in 1972 with his purchase of 86 acres of raw land in the arid climate of Southeastern Washington state , in an area previously used only for open rangelands.  Eight years went by before he could produce his first vintage as 550 feet deep irrigation wells had to be drilled (7 inches rainfall a year!), electricity had to be brought in from 3 miles away, and new roads had to be built. 
His favorite drink up to that time had been beer, although his partner had a good collection of wine that brought him much enjoyment.  I did not ask him if it was the wine or the engineering challenge that attracted him to the place that is now an appellation called Red Mountain (he was an engineer by training).  His wife Ann thought he was crazy, but judging by her adoring gaze, she must have been more than consenting.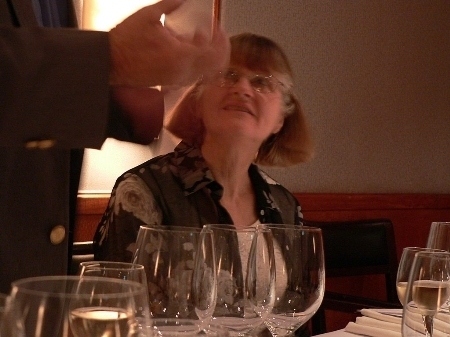 I was lost in his adventure stories when I sipped his 2005 Chardonnay, 2002 Cabernet Sauvignon and 2005 Ice Wine.  What left the deepest impression on me was the 2003 Lemberger.  John proudly told us that Lemberger is a German/Austrian red varietal that he introduced to the U.S.   This is spicy, untamed, almost like a bunch of different wild flowers laid before you.  I wasn't sure if it was the Lemberger or the Washington cowboy that made this so alluring.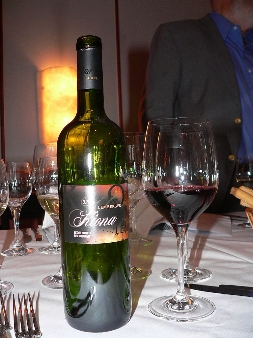 Maxxium's small Antinori wine tasting at the Sky Lounge of Sheraton on Friday June 27 was a wonderful chance to showcase the esteemed winery's diverse holdings in Italy.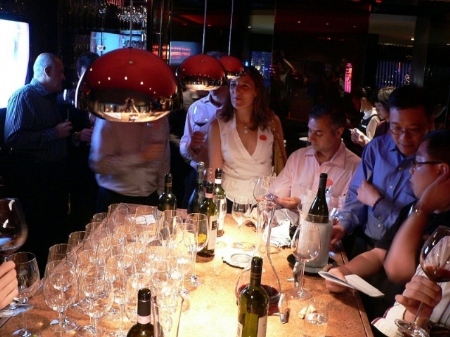 From Lombardy comes the refreshing sparkling 2006 Montenisa Franciacorta, and from Piedmont the clean 2004 Prunotto Barbaresco. 
From Antinori's heartland in Tuscany comes one white and two reds. 
From the Tenuta Guado al Tasso vineyards near Bolgheri comes a delightful white, the 2007 Vermentino made from 100% Vermentino, a local varietal.
The 2004 La Braccesca Vino Nobile di Montepulciano is smoky, mouth-watering Prugnolo Gentile (a Sangiovese clone) that is a screaming value at HK$173 list a bottle.   The classic 2005 Tignanello is in its usual elegant self, never to disappoint nor to surprise.
The discovery of the day for me was the 2003 Bocca di Lupo, from a huge property in Puglia in southern Italy called Tormaresca that Antinori purchased in the 1990's.  This is a 100% Aglianico red.  I've long heard that aglianico wines from the Taurasi DOCG of Campania were called the "Barolos of the south".  I had a few young wines from this region before, and their abundant tannins were almost impenetrable and indeed reminded me of young Barolos.  The Bocca di Lupo however appears to me to be much more approachable, but the dark fruit is reminiscent of the deeply wound fruit of nebbiolo.  Perhaps this is a "Barbaresco of the south"?  A very good value at HK$262 that would become one of my favorite daily drinking wines, alongside Chiantis.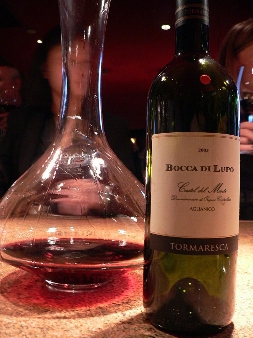 Our wine for the week could well turn out to be our Wine of the Year.  We bought this 1990 Case Basse Soldera Brunello years ago in the duty free shop at Macau Ferry Pier, and waited until this past Saturday to open it.  We thought we had gathered enough reference points to give it justice.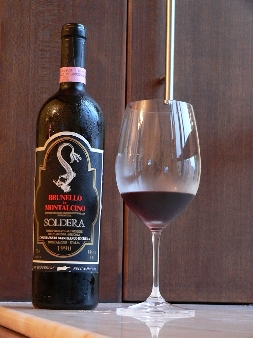 I was never good at writing "technical" tasting notes that give a dozen noses and half a dozen flavors and one or two curves of its development.  I'm perhaps an intuitive drinker, although less so than my wife.
I guess this is a wine people would call ethereal, sublime and the like.  
My intuitive word would be: this is truth.  This is fruit at its essence.   A lot of times, you look for complexity in a wine.  But here I find simplicity is even a better virtue.  Aren't great laws of physics also simple laws? 
We are often made aware of the varietals from which a wine is made.  This is a Brunello di Montalcino, made from Sangiovese Grosso.  But this wine did not at any time remind me of its origin from SG.  It is fruit at its essence.
This reminded me of an almost identical experience I had of several Lalala's from Guigal that I tasted before, and I forgot it was a great Syrah.  I remember writing down time and again just four words in my notebook : 渾然一體.  This time it is even simpler: simple truth.
I suddenly remember an article by 劉(致新)校長 that I read some time ago.  He said all the greatest wines he tasted before tasted the same.  At the time I thought he was writing about philosophy.  After all, philosophy is about truth, something I seem to have discovered thanks to Gianfranco Soldera.
Perhaps this is a wine that has reached a stage of completion.  Like a buddha who has attained enlightenment?  All wines we have stumbled upon prior to this point are like lives struggling with the trials of life: life not completed yet the more enjoyable for that.  Talk about complexities, talk about development in the glass, …  we are just talking about life in motion. 
I don't know, I'm just guessing.