Hits: 14
Our first encounter with La Spinetta wine was in 2005.  We were overwhelmed by its power and underwhelmed by its lack of finesse.  But both the 2000 Barolo Campe and the 2001 Barbaresco Gallina were just babies then.
Still, the chance to meet winemaker Giorgio Rivetti to share with him the wine he made was irresistible.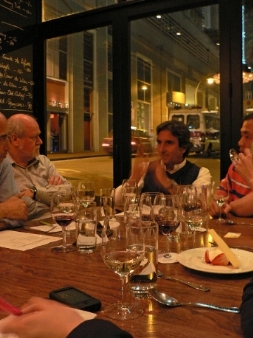 Founded a little over 30 years ago by Giorgio's parents Giuseppe and Lidia Rivetti, La Spinetta made their first serious red, the single vineyard Barbaresco Gallina, as recently as 1995.  By that time, the three brothers Carlo, Bruno and Giorgio had taken over.
The wine dinner gave us a wonderful chance to journey back to their 30-year history.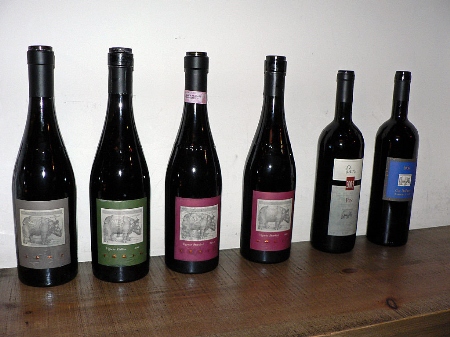 There was the Moscato d'Asti Biancospino 2007, the very first wine they made in 1978.  It was the first single vineyard Moscato in Italy .  Even red drinkers like us found this both interesting and impressive.

And then there was the Barbera d'Asti Cà di Pian 2006, their first red débuting in 1985.  Piedmont with a smiling face.

The Pin 2003, first made in 1989, was clearly a leap forward.  A Nebbiolo-Barbera blend, it has lovely floral qualities that clearly come from very pristine, fresh Nebbiolo.  Giorgio explains that the Nebbiolo comes from a single vineyard.  Pin was a revolutionary blend at that time, and was dedicated to their father whose nickname is Pin.  This then marks the Rivetti Brothers' first foray into nebbiolo.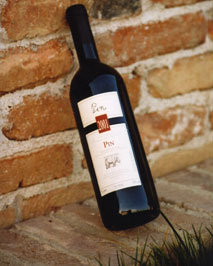 The next logical step was to make it to the pantheon of Piedmont .  In 1995, they released a single vineyard Barbaresco from Gallina, one of the best vineyards from Neive made famous by Bruno Giacosa.  This was quickly followed by two single vineyard Barbaresche, from Starderi (in 1996) and from Valeirano (in 1997). 
I could imagine the Three Brothers impatiently chasing fellow young and upcoming modern style Piedmont winemakers like Domenico Clerico, Guido Fantino, Elio Altare, Roberto Voerzio and Marco Parusso to stardom.  Perhaps they were rushing to make up for lost time of over 80 years that their parents and grandparents spent in Argentina and New York dreaming to strike it rich before they would return to their Piedmont home to make great wine.
They finally did it.
The 2001 Gallina that we had four years ago found to be overwhelming in its power and underwhelming in its lack of finesse has returned now with less power and much more finesse.  It's now more balanced, sexy (Giorgio's word) and feminine (mine).  A young wine has turned mature, and in the process a novice wine lover has hopefully become a little wiser.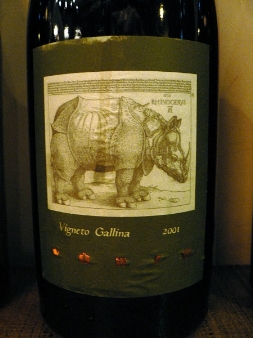 The 2001 Starderi is very masculine by contrast.  It's bright like a Pauillac as Gallina is silky like a Margaux.  My preference is clearly for the Gallina.  If only I could get hold of a bottle of the 1995, 1996 or 1997! 
The 2004 Starderi is made in the same mould, and promises to be every bit as attractive as the 2001 with more age.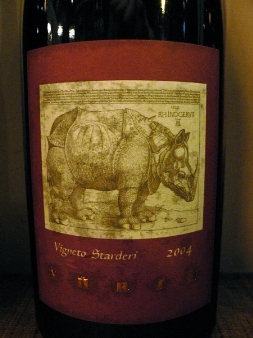 Someone asked Giorgio if he is in the modernist camp.  An inevitable question in any meet-Piedmont-winemaker session.
"That's only a journalistic thing.  To me, 90% of the work is in the vineyard …" 
Giorgio was evasive, and defensive.
There is no denying that La Spinetta's wine is firmly in the internationalist camp.  But watching and hearing Giorgio this evening, I saw no problem at all with that. 
My guess is his family's history is anchored firmly in both Piedmont and the world.
From Piedmont, his grandparents emigrated to Argentina in the 1890's to look for fortune.  They did not, and his parents finally came back to Piedmont around 1977 (when Giorgio was a twenty-something), after also spending time in New York .  What did they drink all these 80-90 years?  They must have acquired a very international palette.
Giorgio himself loves food and wine, and he drinks a lot of Bordeaux .  He thinks Mouton made one of their best wines in 2003.
Someone with an international palate is making wine that he truly loves, and not wine that Robert Parker Jr. or the "market" wants.  In that respect, doesn't Bruno Giacosa do the same thing?   
But his soul is Piedmontese.  He declares that nebbiolo is the greatest grape in the world because it has minerality, complexity and power all at the same time.  By comparison, Burgundy is also great, but it sometimes lacks power.
As I was nodding, I saw the gentleman sitting opposite me shaking his head.
Wine is wonderful!
Postcript:
The venue was in my memory the best ever, cosy and warm, and such a homey atmosphere.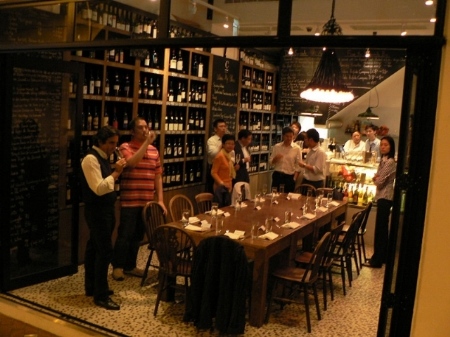 I never expected too much of food, but the stewed beef was one of the best that I ever had.