Hits: 10
Source: New York Times, May 12, 2011
http://www.nytimes.com/2011/05/13/world/middleeast/13egypt.html?_r=1&ref=daviddkirkpatrick
The article appeared in South China Morning Post on May 14 with a different title:
"Mubarak has gone but the streets are at war … Civil disorder hinders Egypt's progress towards democracy"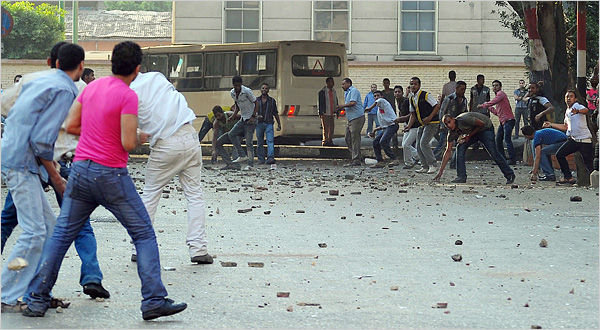 Coptic Christians, left, and Muslims threw stones at each other during clashes in Cairo last weekend.
Published: May 12, 2011
CAIRO — The neighbors watched helplessly from behind locked gates as an exchange of gunfire rang out at the police station. Then about 80 prisoners burst through the station's doors — some clad only in underwear, many brandishing guns, machetes, even a fire extinguisher — as the police fled.
"The police are afraid," said Mohamed Ismail, 30, a witness. "I am afraid to leave my neighborhood."
Three months after the ouster of Hosni Mubarak, a crime wave in Egypt has emerged as a threat to its promised transition to democracy. Businessmen, politicians and human rights activists say they fear that the mounting disorder — from sectarian strife to soccer riots — is hampering a desperately needed economic recovery or, worse, inviting a new authoritarian crackdown.
At least five attempted jailbreaks have been reported in Cairo in the past two weeks, at least three of them successful. Other attempts take place "every day," a senior Interior Ministry official said, speaking on the condition of anonymity because he was not authorized to talk publicly.
Newspapers brim with other episodes: the Muslim-Christian riot that raged last weekend with the police on the scene, leaving 12 dead and two churches in flames; a kidnapping for ransom of a grandniece of President Anwar el-Sadat; soccer fans who crashed a field and mauled an opposing team as the police disappeared; a mob attack in an upscale suburb, Maadi, that hospitalized a traffic police officer; and the abduction of another officer by Bedouin tribes in the Sinai.
"Things are actually going from bad to worse," said Mohamed ElBaradei, the former international atomic energy official, now a presidential candidate. "Where have the police and military gone?"
The answer, in part, is the revolution's legacy. Public fury at police abuses helped set off the protests, which destroyed many police stations. Now police officers who knew only swagger and brute force are demoralized.
In an effort to restore confidence after the sectarian riot last weekend, the military council governing the country until elections scheduled for September announced that 190 people involved would be sent to military court, alarming a coalition of human rights advocates.
After an emergency cabinet meeting, Prime Minister Essam Sharaf reiterated a pledge he made before the riots: The government backed the police in using all legal procedures, "including the use of force," to defend themselves, their police stations, or places of worship.
It was an extraordinary statement for a prime minister, in part because the police were already expected to do just that. "This may be the first time a government ever had to say that it was fully supporting its police," said Bahey el-din Hassan, director of the Cairo Institute for Human Rights Studies. "It is an indication of the seriousness of the problem."
Many Egyptians, including at least one former police officer, contend that the police learned only one way to fight crime: brutality and torture.
Now police officers see their former leader, Interior Minister Habib el-Adly, serving a 12-year prison term for corruption and facing another trial for charges of unlawful killing. Scores of officers are in jail for their role in repressing the protests.
"They treated people like pests, so imagine when these pests now rise up, challenge them and humiliate them," said Mahmoud Qutri, a former police officer who wrote a book criticizing the force. "They feel broken."
Mr. Hassan, who has spent his career criticizing the police, said he sympathized. Police officers who defended their stations from protesters are in jail, while those who went home to bed are not facing any trial, he said.
"So the police are asking, 'What is expected of us?' It is a very logical question, and the problem is they don't have an answer," he said, blaming higher authorities.
Shopkeepers say the police used to demand goods for just half the price. Now, said Mr. Ismail, the witness to the police station jailbreak, the officers who visit his cellphone shop murmur "please" and pay full price. "The tables have turned," he said.
The change in public attitudes is equally stunning, said Hisham A. Fahmy, chief executive of the American Chamber of Commerce in Egypt. "It's: 'Talk to me properly! I am a citizen!' "
The spike in crime is a remarkable contrast to life in the Mubarak police state, when violent street crime was a relative rarity and few feared to walk alone at night. "Now it is like New York," said Mr. Fahmy, adding that his group, which advocates for international companies, had been urging military leaders to respond more vigorously.
At a soccer match pitting a Cairo team against a Tunisian team, police officers ringed the field until a referee made a call against an Egyptian goalie. Then the officers seemed to vanish as a mob of fans assaulted the referee and the visiting team. Five players were injured, two of them hospitalized, and the referee fled.
"When the violence erupted, the police just disappeared," said Mourad Teyeb, a Tunisian journalist who covered the game. The one policeman he found told him, "I don't care, I don't assume any responsibility," Mr. Teyeb said, adding that he feared for his life and hid in the Egyptian team's dressing room.
Some see a conspiracy. "I think it is deliberate," said Dr. Shady al-Ghazaly Harb, an organizer of the Tahrir Square protests, contending that officials were pulling back to invite chaos and a crackdown. "I think there are bigger masterminds at work."
Interior Ministry officials, speaking on the condition of anonymity because they are not authorized to discuss the security situation, said the destruction of police stations had contributed to the disorder. The remaining stations are overcrowded with prisoners from other facilities. Of the 80 escapees from the police station, 60 have been recaptured, an officer said.
Mansour el-Essawy, the new interior minister, has called the lawlessness an inevitable legacy of the revolution. Of the 24,000 prisoners who escaped during the revolution, 8,400 are still on the run, and 6,600 weapons stolen from government armories have not been recovered, he said in an interview with an Egyptian newspaper, Al Masry Al Youm.
After the revolution, he said, the police justifiably complained of working 16-hour shifts for low pay. Bribery customarily made up for the low wages, critics say. So the ministry cut back the officers' hours, and as a result also cut the number on duty at any time. And the sudden loss of prestige made it harder to recruit. "People are not stepping forward to join the police," he complained.