Soldera on the current state of the Italian wine industry
Source: Vino Wire http://vinowire.simplicissimus.it/2010/08/18/soldera-on-wine/#comments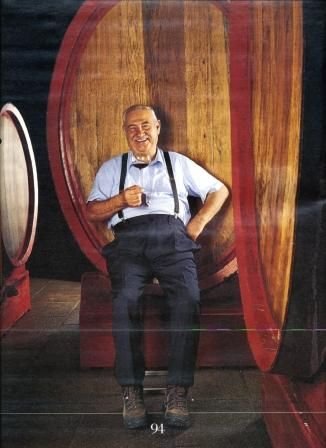 The following excerpts have been translated from Gian Luca Mazzella's interview with Brunello di Montalcino producer Gianfranco Soldera (Il Fatto Quotidiano, August 14, 2010). Translation by VinoWire.
Italian viticulture has been radically transformed over the last thirty years. Has the quality of the wines improved, as so many claim?
Momentous change has occurred over the last thirty years. But whether or not the quality of the wines has improved has yet to be seen. Consider the facts: in the 1970s, I produced 15,000 of the 700-800,000 total bottles of Brunello [produced each year]. Today, more than 7 million bottles are produced and there are those who would like to increase that number to 14 million. I continue to produce the same quantity of wine. This gives you a sense of the dimension of change. The wine market is in the hands of corporations instead of grape-growers. Making matters worse, there has been a marked decrease in the number of wine connoisseurs.
Why has quantity increased but not quality?
Industrial winemaking has grown because it controls the commerce of wine. The current difficulties of the wine economy are due to the fact that small winemakers are not able to get their products to the end user. This is because they can't produce the numbers nor the marketing necessary to be able to count on the global market. I believe in direct sales of everyday products. The problem is consumer culture and the forces of the media and an economy driven by people who don't want consumers with culture.
Your winery belongs to the Brunello di Montalcino Consortium: you must be aware of the fact that the body's new president Ezio Rivella recently declared that 80% of the Brunello had been produced by flagrantly adding Merlot to the Sangiovese and thus violating the appellations regulation which require that only Sangiovese be used.
If he says so, it must mean that he knows so. I don't know. I'd like to ask the critics just one thing: what have you seen and tasted over the last 20 years? I'd like to know where the critics have been. They ought to critique themselves.
What do you think of the natural wine, biologic, and organic wine movements?
Everyone does whatever he wants. I make natural wine. If it's not natural, it's not wine. I have never given and will never give any type of poison to my land, to my vines, or my wines. The earth is life. Nowhere is it written that biologic or organic wines have the characteristics necessary for a natural wine.
What about biodynamics?
Let me say it again: everyone does whatever he wants. Steiner, the father of biodynamics, didn't really know that much about agriculture.