Hits: 43
A summary of Sheldon Wasserman's comments on the most important vintages between 1958 and 1989.
The comments are drawn from his Barolo section, but are usually applicable to Barbareco as well, except where indicated.
Tom Hyland's assessment of vintages from 1996 to 2005 follows this table.
Vintage

Wasserman

Rating

Galloni Rating

Style

1958

4

One of the all-time greats

1961

2+

Varies, but may not last

1964

3-

Well thought of by some

1967

2

Varies; Giacosa puts at top rank; G Conterno produces Monfortino

1970

3-

93

Underrated; overshadowed by '71

1971

4

94

A very small crop of richly intense, highly concentrated wines, rich in extract and very well balanced — overall, splendid wines.

This vintage shows all the splendor of Barolo.

Barbaresco: Excellent wines, but lack the finesse of Barbaresco style. Many seem to be Barolos in the guise of Barbarescos.

1974

2-

A very large crop. Rated highly by many, but has not lived up to expectations, although a few made splendid wines.

1978

3

97

Highly regarded wines from a very small crop of ripe, mature grapes. But today very few producers put it on the same level as '71, '82, '85 or '89.

1979

2

86

Overall, a good vintage of rather light Barolos that were ready for drinking early.

1982

4-

96

Rather large crop and also one of the best. Exceptionally fine, complete, and finely balanced, with more elegance and fruit than the '78s. Might not measure up to the '71s or '89s for sheer weight, power and concentration, or the overall balance of the '85s, they make up with their elegance and finesse.

1985

4

95

A very dry year that produces extremely well-balanced wines with a lot of perfume and a purity of nebbiolo fruit not often found. Only 1989 is better in the decade.

Barbaresco: Even better in Barbaresco. It's hard to imagine more perfect Barbarescos.

1986

3

90

A major hailstorm on May 29 caused damage to the best areas. But this vintage has produced some excellent wines, many of which are elegant rather than powerful.

1987

2-

86

Variable because of unsteady weather. As many good wines as duds.

1988

4-

90

Consistently high-quality all around, with rich wines but without the concentration and structure of the '89s, and behind '89, '85, and '82.

1989

4+

97

A very small crop. Wines with great extract and concentration, with the richness and structure for long aging.

Barbaresco: Very high level of quality and consistency, but danger of turning out like the '71s, Barbaresco in the guise of Barolo.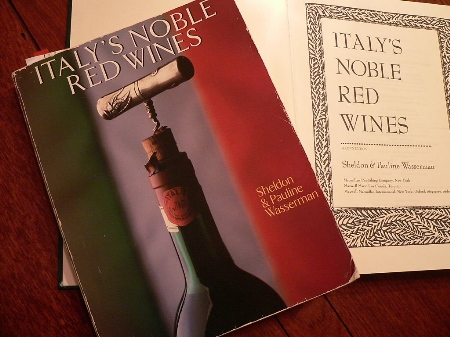 1996-2005 Vintages, according to Tom Hyland
Source: http://learnitalianwines.wordpress.com/2009/11/13/assessing-barolo-vintages/
As a followup to last week's post on the best producers of Barolo, here is a summary of my thoughts on recent vintages, based on tasting between 100-150 examples of these wines each year.
2005
This is the vintage currently coming to market in the fall of 2009. This is a very good to excellent vintage with admirable concentration and very good acidity. These are not powerhouse wines, but will be at their best in 12-15 years, with some drinking a bit beyond that. VERY GOOD TO EXCELLENT
2004
An outstanding vintage, with wines that offer everything you look for in a great Barolo; excellent concentration, beautiful acidity, generous tannins and ideal structure for aging. An added bonus with the 2004 Barolos is their aromatic profile – so many of these wines offer gorgeous fruit aromas along with lovely floral notes. Most of the best bottlings will drink well on their 25th birthday; famed producer Pietro Ratti told me that some of the best Barolos from 2004 will be at their peak when they are 40 years old! OUTSTANDING
2003
This was a difficult vintage for the Nebbiolo grape, due to the extreme heat of the growing season. Rich fruit, but also alcoholic wines with big, slightly bitter tannins. Not a vintage that emphasizes elegance, to be sure. Best consumed 7-12 years after the vintage. AVERAGE
2002
Hail storms ruined most of the crop in La Morra as well as a few other communes, so this is a vintage of small quantity and even the best wines are rather light. A few communes (such as Verduno) were spared the hailstorms, so the wines from there have a bit more complexity, but overall this is a simple vintage. You probably won't even have much success finding many Barolos from 2002, as buyers avoided these wines. BELOW AVERAGE TO AVERAGE
2001
An outstanding vintage with excellent concentration, lively acidity and nicely integrated tannins. Beautiful structure for long aging – the best will peak from 20-25 years after the vintage. Excellent wines from virutally every commune, be they more elegantly styled from La Morra or more intense wines from Monforte or Serralunga. OUTSTANDING
2000
The wines from 2000 are nicely styled with round tannins and balanced acidity, but they are far from great. These are, simply put, pleasant wines for short term drinking- most of the best are nearing peak, while many are already there. When a Barolo peaks at 10 years of age, you know this is not a great year. A few "authorities" who know more about California than they do about Barolo proclaimed this vintage as the greatest since Barolo was invented, but that was nothing more than misfounded hype. The truth is that 2000 was an average year with a handful of above average wines. AVERAGE
1999
An outstanding year with ideal structure. Overall, the wines from 1999 are a touch lighter than those from 2001, but are equal in terms of quality. The wines from 1999 are elegant- this is a perfect vintage to experience finesse as well as expression of terroir in Barolo. The best examples of 1999 Barolo will drink well in 20-25 years. OUTSTANDING
1998
A beautiful vintage that has been unfairly underrated, in large parts as it came after the hype of 1997, which featured big, bold, ripe wines. While the Barolos of 1998 are clearly more subdued than those from 1997, the 1998s are unquestionably better wines in almost every way. The 1998s are quite rich (not super concentrated, but with very good to excellent concentration) and offer pinpoint acidity. These are elegantly styled with beautiful structure. The wines are drinking beautifully now and offer a beautiful sense of terroir. If you haven't tried many Barolos, 1998 would be a great place to start. If you have tasted many Barolos, 1998 will surprise and excite you. A classic exmaple of a special vintage being lost amidst so many other first-rate vintages, such as 1999 and 2001. EXCELLENT
1997
A controversial vintage that some have labeled as great, while others find it a year in which too many wines are not that well balanced. I am in the latter camp. I have yet to find many examples of Barolo from 1997 that are elegant and round; the tannins are quite big and will outlive the fruit. Having said that, I have found a few 19997s that I think are quite good. In the final analysis, this is not a great year (Danilo Drocco, winemaker at Fontanafredda, agrees with me and thinks that 1998 was far superior). ABOVE AVERAGE
1996
An oustanding vintage with great concentration and beautiful structure. A truly classic vintage; the best of the 1996 Barolos still need another 10 years to be at peak and the finest will drink well for another 20 years. OUTSTANDING
Also on the next two vintages: 2006 and 2007. These wines will not be released until 2010 and 2011, respectively, but I can offer some thoughts, based on barrel samples I have tasted, as well as other red wines from this area. 2006 should be a very good/possibly excellent year for Barolo. The wines will definitely be richer than those from 2005 and may age longer. The only problem will be acidity, as this was a slightly hot growing season; the acidity will be at lower levels than 2005.
Regarding 2007, this has the possibility of being an outstanding Barolo vintage. Impressive concentration, ideal acidity and rich, well integrated tannins. These are beautifully structured wines that should age for decades. My argument here is based not only on tasting a few barrel samples of Barolo as well as a few other examples of Nebbiolo from the area, but also on comments from local winemakers who told me in 2008 that while the 2005 and 2006 Barolos would be very good, I should wait for the 2007s, which would be outstanding.
Text and photos ©Tom Hyland