Hits: 39
我今天在 Facebook 的 Barolo and Barbaresco 群組發表了一篇關於 Francesco Rinaldi 老年份 Barolo 與 Barbaresco 的短文,現全篇轉載於下:
I love 1971 Barolo. If I single out one vintage that gave me the most pleasure in my long infatuation with Nebbiolo, it has to be this one.
And the latest surprise was a 1971 Barolo from Francesco Rinaldi, that I drank over 3 days. All throughout the 3 days, It was clean, sweet, velvety, and OMG, youthful. If I use one word to sum it up, it's Harmony. It's like a little box wrapped all around with a piece of red velvet, and the wrap is so complete that you cannot find cleavage anywhere, as if it were born that way.
It's harmony that only the Barolo village can give, and to be exact, the Cannubi hill.
I had a similar bottle four years ago, and that was blasting with truffles, mushrooms and leather, all the tertiary charm you would find in a mature Barolo.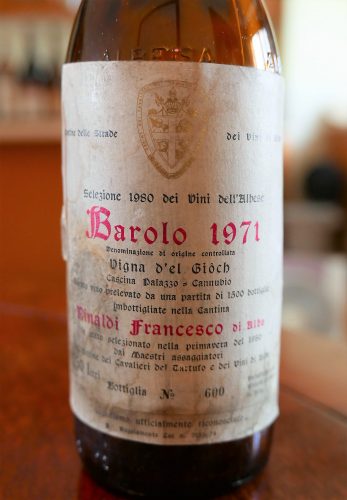 I began drawn to the writing on the label. What is Vigna del Gioch, and Cascina Palazzo, Cannubio?
I could not find it in Alessandro Masnaghetti's Atlas, so I wrote to the winery, and Piera Rinaldi kindly provided me with the answers, and more.
Gioch is henhouse in Piemontese dialect. The family lived in the house on Cannubi hill before they moved to Alba in 1930. They had a henhouse and just named their plot Vigna del Gioch. As for Cascina Palazzo, it means Palace Farmhouse, a kind of fancy name for their farmhouse. Palace just refers to the fact that it had a very large size, by 1870 standards.
So this is a Cannubi single vineyard Barolo from 1971, with only 1,500 bottles produced. The winery started producing single crus (Cannubio and Brunata, as they would call them) in the 1980s, so this is a very rare single cru that predated the fashion.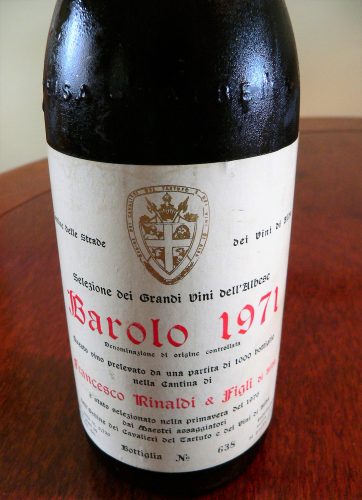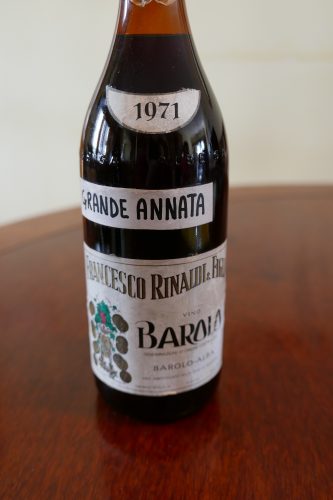 Then I dug into my records and found that I have had 3 different 1971 Baroli from them, two of them sporting the Cavalieri del Tartufo label. The other Cavalieri del Tartufo (called this Tartufo B) was just simply called Barolo 1971, of which 1,000 bottles were produced. And then there was the regular Barolo Classico with that familiar, classical looking label.
I went back to Pietra and uncovered more secrets. Tartufo B probably had fruit from both Brunate and other vineyards that go into the Barolo Classico. As for the Barolo Classico, it is a blend of 4 crus: Codana, Vignane, Rocche dell'Annunziata and Sarmassa. In passing, she also told me that Rocche dell'Annunziata will be taken out for a new single cru starting with the 2018 vintage, as they now have enough fruit to make a single cask.
And the story did not end there. I clearly remembered 2 bottles of 1952 Barbaresco from them that were incredibly youthful! I knew from Sheldon Wasserman's classic that they bought grapes for their Barbaresco, so I asked Pietra from whom they bought the grapes. The answer is a small farmer Pelissero Ornella, who owns the Pasquale Pelissero winery, in San Giuliano near the town of Neive.
A good question that needs to be asked is: Sheldon Wasserman, writing in the 1980s and early 1990s, ranked Francesco Rinaldi the equal of Giuseppe Rinaldi. But why was it that a later generation of critics either demoted Francesco or promoted Giuseppe? One clue was given by Galloni, who wrote in 2010 that "It wasn't that long ago that the wines were harsh, lean and excessively austere, even within the context of traditionally made Barolo. Not any more. Today's wines are cut with beautiful precision and show exceptional harmony. Even better, they won't take decades to come around."
It seems that the "problem" was the winery did not move with the times, more precisely the taste of the wine critics. I can only say that it is a bonanza to me as I can acquire a true Barolo at dirt cheap prices. And it is still true today.