Hits: 14
Marc de Grazia had this to say when discussing wine lover's preference for Piedmont vs Tuscany , and Burgundy vs Bordeaux: it's like Plato vs Aristotle — Plato for Piedmont and Aristotle for Tuscany . When I asked Marc whether he was referring to the dichotomy of Idea vs Experiment, or Intellect vs Emotions, he smiled and asked me to take a look at Raphael's The School of Athens.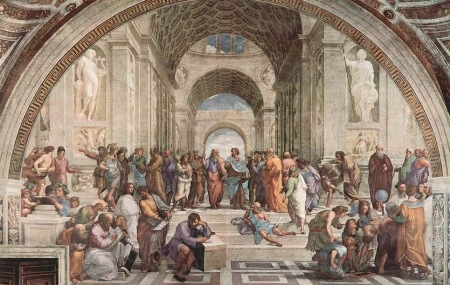 Got it? In the center, Plato is pointing toward the sky and Aristotle toward the ground.
Cultured creatures, you wine lovers!
Background
Marc de Grazia, influential Italian wine agent/negociant, hosted a Barolo wine dinner at BoInnovation on November 23, 2007 at the invitation of Altaya Wines. He is such a cultured personality. Many interesting insights into Wine, including the Plato and Aristotle analogy. We had a short but lively discussion too about Chinese philosophy, and I was a little amused when he told me he thinks Confucious and the Taoists are opposites. This is so Greek, so Platonian, and so black and white. I think the Chinese love greyness, and great scholars like Su Shi (苏轼) had 3 different hats that he could switch in and out with great ease: Confucianism, Taoism and Buddhism.