Hits: 68
I just wish some Barolos will never change.
No, it's not a matter of traditional vs modernist, big barrels vs small.
I'm talking about people as true as Maria Teresa Mascarello —- Bartolo's daughter and Giulio's granddaughter.
I know their Barolo pretty well. I drink them, read about them and hosted wine events to urge my friends to try them. The funny thing is my friends' fascination drags me into a deeper obsession, and as a result there is more and more passionate discussion about Bartolo between us, and in turn I am even more enchanted by its magic. There just seems to be no end to this.
When I started planning my first trip to Barolo, a good friend from Italy asked me where I wanted to go. I gave them just one name: Bartolo. I said I am more than willing to make a special trip to Italy if only to pay pilgrimage to them, doing nothing else.
And when I set foot on the Holy Land, I never stopped looking around with my greedy eyes. I did not have anything to ask, because this is a place that is so familiar to me from the many stories I heard before. The only thing I have not done was actually being there. All I needed was to put myself into those stories. I have been rambling for so many years, and now is the time to go home.
But there is just one question that I got asked again and again from my friend, and I need to ask Maria Teresa. Only this one.
Since coming home, every little detail of those two days was still with me, so I decided to keep a journal of what happened so I can visit and revisit these scenes, and with this, I also want to tell the whole world that the most beautiful things had better stay the same way forever.
May 9, 2015 (afternoon)
Barolo is a small town, and Bartolo's cantina (cellar) is at 15 Via Roma, near Marchesi di Barolo. We arrived at the appointed time and rang the door bell. Soon an old lady opened the door at the red brick house to the right and let us in.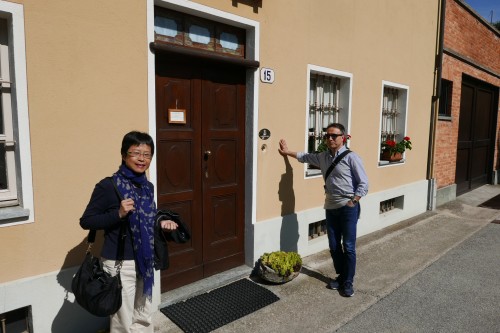 Maria Teresa was still with her guests, but she came out and greeted us.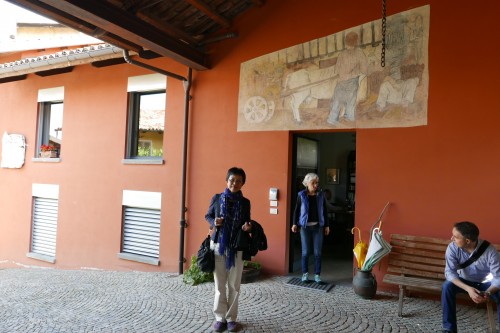 Then we realized that there were two houses joined together — no. 15 was probably the residence, and the red brick house was the tasting room and office. Joining the two was an underground cellar.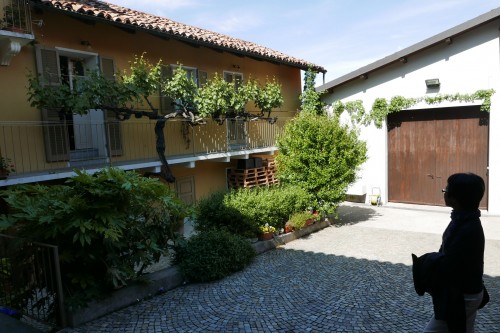 Half an hour later, Maria Teresa came out again, and she looked so beautiful under the sun. This star does not put on any airs at all. She is so real. I was not sure if it's the sun or the smile on her face, but my heart was filled with warmth and great delight.
We walked into the cellar and saw two big "tini" (traditional fermenting casks) at the left …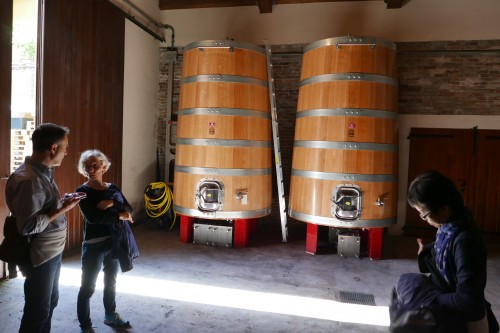 And to the right a row of cement vats …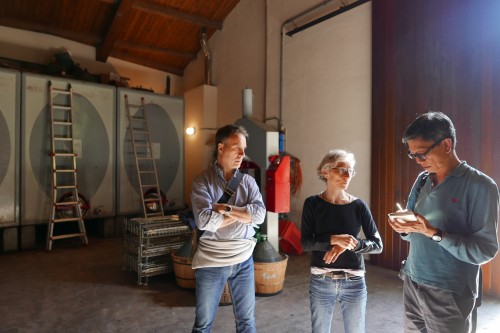 We have 5 hectare of land in 4 parcels. What Nature gave us, we blend together to make one Barolo. We have no interest to become big, and our last acquisition was a small plot bought from a cousin in the 1980s …
Finally I summoned my courage to ask an embarassing question: I have a friend who craves for your wine but is constantly worried about the day when you cannot work … what can we do then?
(Smiling) Because I have no children? I am still dong OK! I put all my energy into work when I was young, and thought less of starting a family. But have no worry, as both Giuseppe Rinaldi and Giacomo Brezza are my cousins …
I saw a documentary in which Maria Teresa told that she went away to study foreign languages when she was young, and she did not drink before she was 20. Her father never forced her to continue his work, but she took up his baton when he fell ill and was bound to a wheelchair. She decided to defend the tradition, and it was probably from that time that work became more important than family.
I remember seeing a picture at Giuseppe Rinaldi's home with the happy faces of the two families.
My research told me that Beppe Rinaldi is Maria Teresa's maternal uncle (her grandmother is Beppe's aunt), and so Maria Teresa has two cousins who are Beppe's daughters. Also, Bartolo is the godfather of Giacomo Brezza's current owner Enzo.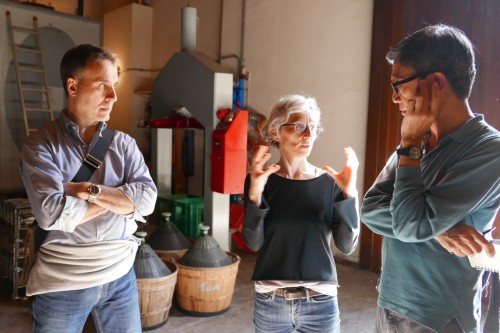 Why are you keeping so many demijohns?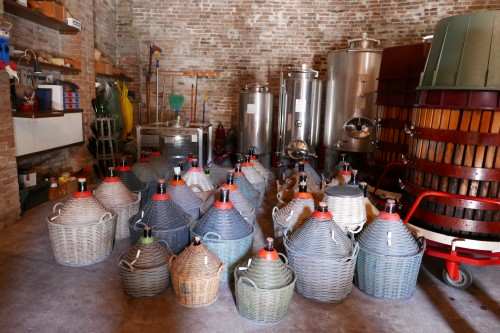 For temporary storage of wine. There are so many lying around, and I might as well make good use of them!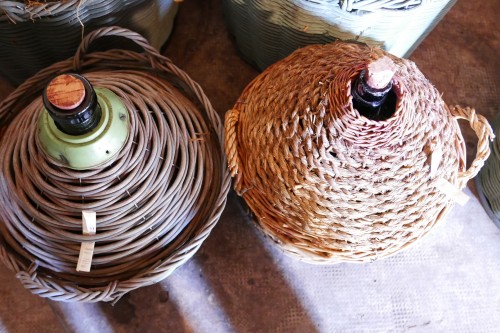 There was a small piece of paper tied to each one …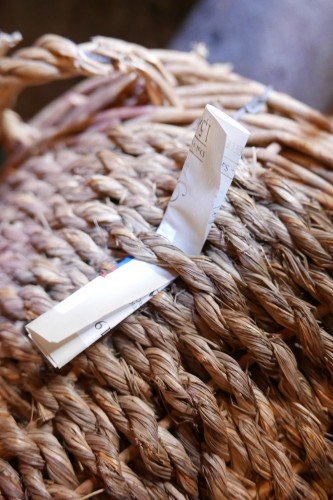 indicating the vintage ….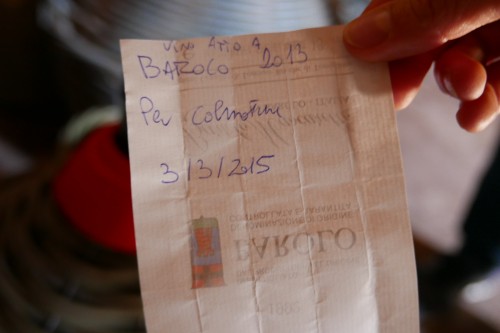 it was the back of an old wine label … a touching act of recycling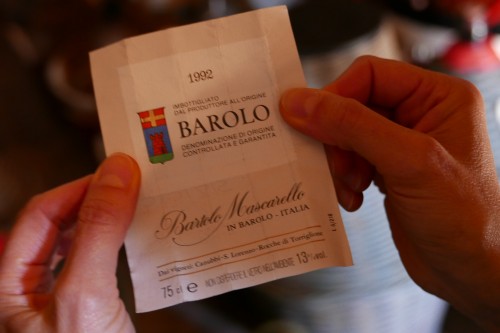 Big barrels filled the small cellar. I thought of a story in Kerin O'Keefe's book about Bartolo making Maria Teresa promise she would never use barriques, and not reassured by her positive answer, he bought a lot of new big barrels and filled every corner of the cellar so there will be no more space for barriques. I asked Maria Teresa if this were true, and she just smiled, which told me that it was probably a joke. I probed, and she nodded mildly.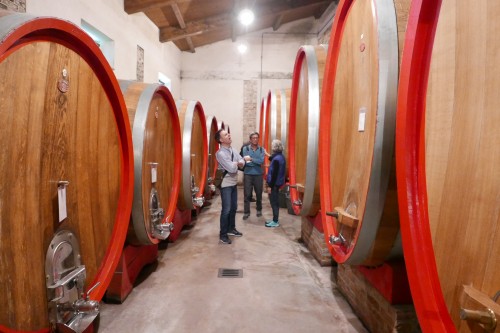 A few demijohns were standing in the passage, and there were sidecases on the wall filled with wine bottles. There was not an inch of empty space.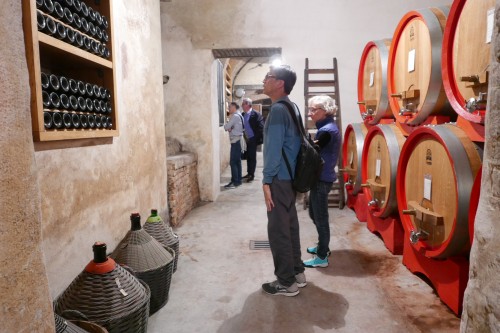 Further down, there were several tall shelves on the right filled with vintage bottles, and standing on top of the shelves were big demijohns.
Those were 10-12 litre "pintone", in memory of my grandfather who first used them ….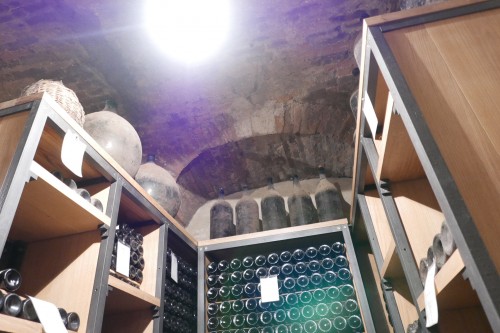 There were a huge quantity of old vintage bottles! The wine critics never had kind words for Italian producers when they talked about old vintages — even Bruno Giacosa does not keep any. But it is not surprising at all for small producers to think of survival before fame. I used to think that only big producers like Giacomo Borgogno and Fontanafredda can afford to build a library of old vintages. Bartolo is incredible.
That's a sacrifice for us! We've got 1,000 Magnums, mainly for sentimental reasons, but this is also a piece of history.
From a speck of dust you can discover the world — the old demijohns, pintone, the old cellar ….
At the end of the alley was a big shelf of wine bottles, covered with a gauze, and a sign saying: TUCA NEN. Is this dialect? And there were little tags all over indicating wine from different regions: Central (Abruzzo, Lazio, Marche, Umbria), South (Sicilia, Puglia, Campania), French (reds) ….
We returned to the tasting room just to the right of the red brick house. I was seated near the door, and everything was lit up by the sun — the people and the wine.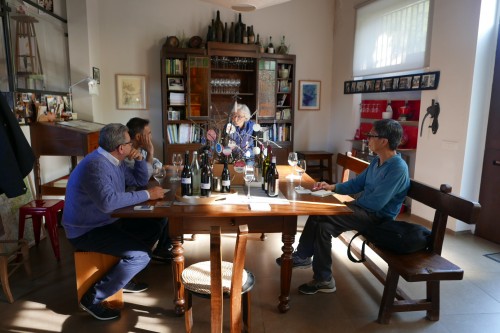 The other side of the room …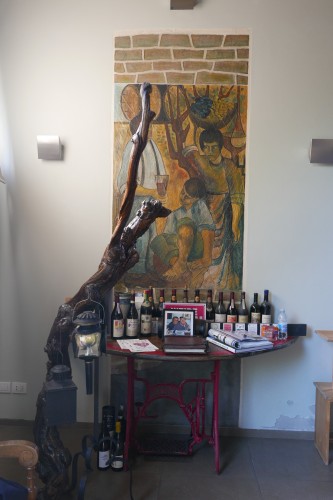 bottles with hand painted labels by Bartolo ….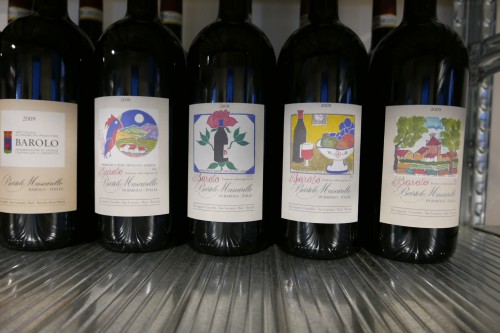 The most famous of them all. I read that someone reported this to the authorities, and the labels were confiscated. (A Wine Atlas of the Langhe, p. 61)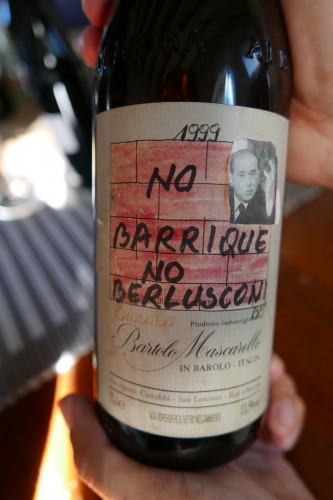 Wine tasting here is not a teaching class or sales meeting. It's more like friends having a chat ….
2013 Langhe Nebbiolo in an improvised label for 2012: bottled 3 weeks ago, fresh rose petals, strawberries, sweet and round, with a long finish. Maria Teresa thought 2013 is a bit like 2010, a normal, fresh vintage, with good acidity and low alcohol, and not much green harvesting was needed this year.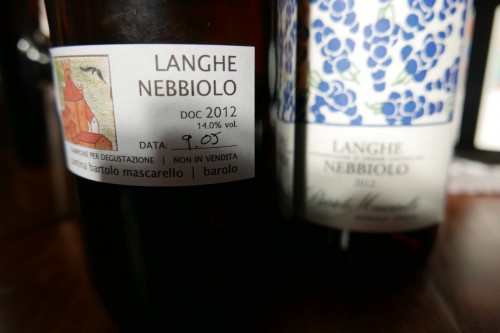 2011 Barolo: bottled last July, and will be released next March. Spices, wild flowers, a rich mouthfeel, great intensity and ample tannins.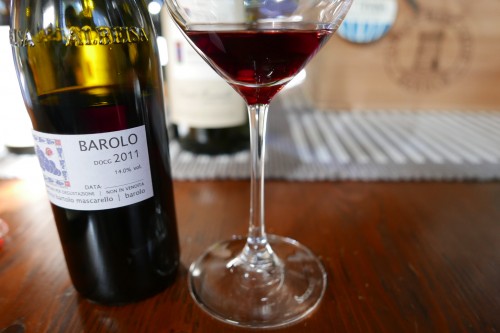 2010 Barolo: Not as fresh as 2011, deep and a bit cool, but a complete wine with great depth.
Do you drink wines made by other producers?
Borgogne …. I have a Nebbiolo palate, and I think Etna is quite good.
Anyone in particular that you like?
Graci. Nerello Mascalese is really like Nebbiolo.
How about Taurasi — people call it Barolo of the South?
Aglianico is good, but those from Basilicata are more elegant than Campania. But Nerello Mascalese is even more elegant.
Puglia's Ciro is also quite good.
How about Nebbiolo from Northern Piedmont? I think Sperino's Lessona is lovely!
Paolo De Marchi is smart, but the oak is too much for me.
Very slowly and carefully, she wrote down these names on my notebook:
Lessona: Tenuta Sella

Valtellina: ArPePe

Bramaterra: Odillio Antoniotti

Boca: Le Piane
How about Brunello?
She paused a little while. She probably doesn't drink a lot of this.
Stella di Campalto is nice.
But she uses some barriques!
Really?
I suddenly thought of Auguste Clape in Cornas — someone once said he is the Bartolo Mascarello of this Northern Rhone appellation.
She never heard about this, but was very interested to know. I promised to send her some information. Perhaps I should also introduce to her my good friend Il Paradiso di Manfredi.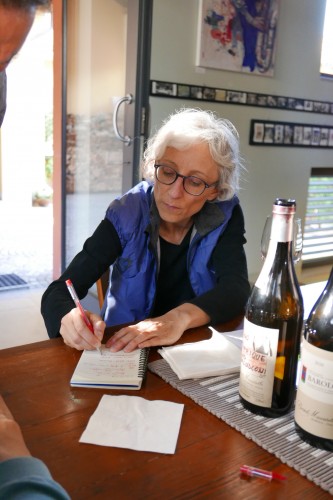 Before I left, I asked her to autograph on a picture of her appearing in Kerin O'Keefe's book. She seemed to be delighted, immediately ran up to her small office up a small staircase and came back with a small blue pen, with which she put down, in neat handwriting, "VV Il Barolo!"
We made her a gift of a Hunan embroidery entitled "Autumn in South Mountain" ….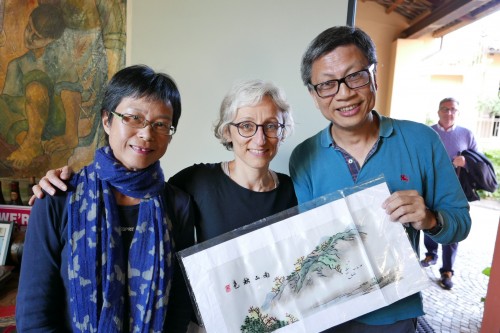 She returned with a booklet of her father's paintings ….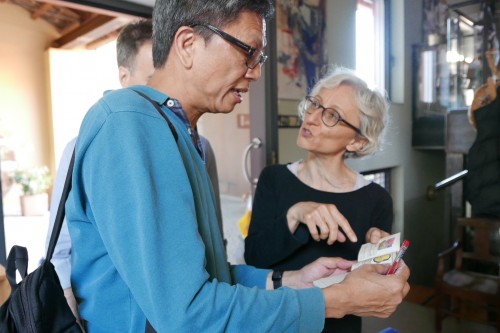 and carefully autographed on the cover …
Pa was not a painter. He only started doing this when he was 65 to 70, painting like a small child ….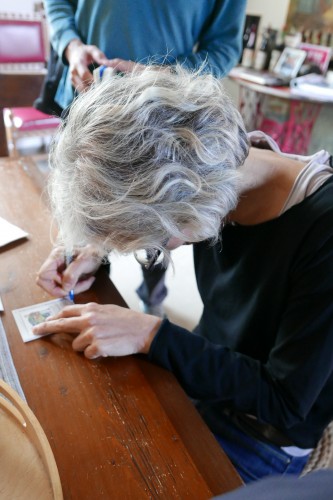 This one is interesting — traditional vs modernist woman in Bartolo's eyes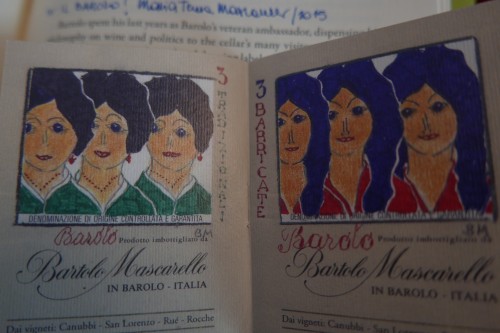 The sun was setting when we departed, and the Barolo castle was glowing in a distance. I recognized the small tower on the right of the castle from Bartolo's labels.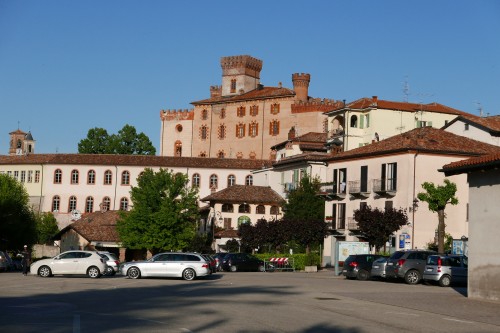 For dinner we had two bottles of Bartolo: the 2013 Freisa and the 2011 Langhe Nebbiolo.
Freisa is a frizzante (with bubbles), my first ever, very interesting with dark fruit; the Langhe Nebbiolo fully opened up at the time we finished our meal two hours later, now with fresh rose petals and almost completely integrated. Not surprising as that was a Flower day!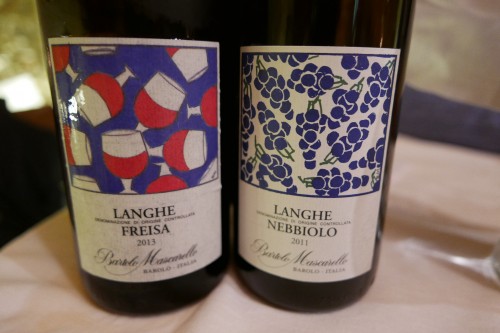 May 10, 2015 (noon)
The next day, we went to the small restaurant under the Serralunga castle for lunch. We sat outside, and ordered a bottle of Bartolo's 2012 Barbera. My wife has never enjoyed a Barbera so much!
After lunch, we went inside for a coffee, and surprisingly caught sight of Maria Teresa with a group of friends enjoying lunch. Surprised and happy, we greeted and bade each other goodbye again. Hope to see you again! Is this Destiny?
When I returned to Alba, I went hunting for their Barbera, Dolcetto and Nebbiolo, and only then did I realize how difficult they were to find. We went to several shops, and were told the same story: each shop got only a few bottles and they were quickly gone. In the past, I focused mainly on Barolo, and from now on, I should pay more attention to these younger brothers and sisters.
We had been in Alba for a week, and these two days were the most fulfilling. I felt that I had caught a brief glimpse of eternity. That evening, I posted a weibo saying: Our first encounter with Maria Teresa Mascarello was an eternal moment, it was eternity caught in a flash moment.
As a matter of fact, we had a previous encounter when she first visited Hong Kong several years ago, but it was a brief one as I did not want to take up too much of her time. This time we more than made up for it.
We sincerely wish Maria Teresa a long long life. And I would like to conclude my report with pictures of her with her family.
A warm and blissful picture with her father.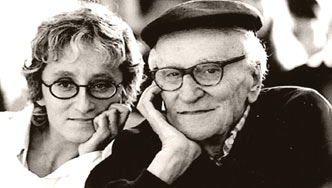 With her mother (from: http://dobianchi.com/2008/04/19/italy-day-2-bartolos-beret/)
Grandpa Giulio learned to make bread in Genoa, and returned home after WWI, determined to devote himself to winemaking. This is the only picture I could find, from A Wine Atlas of the Langhe published by slow food (p. 62).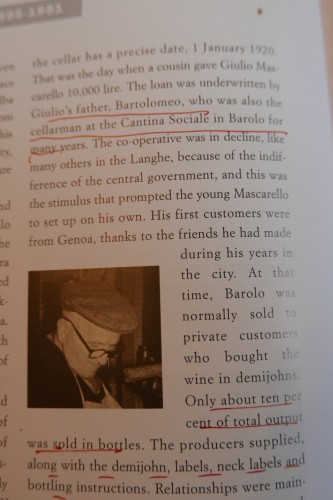 Giulio started a cellar on January 1, 1920 with 10,000 lire that he borrowed through his father Bartolomeo, himself a cellarmaster for many years in the local co-operative Cantina Sociale in Barolo. I cannot find a picture of Bartolo's ancestor, but interestingly we walked past the site of the co-operative the day after our visit to Bartolo, and I took a picture of it. Sometimes, eternity can be real close.