He is our Champ!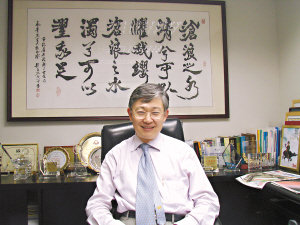 曾經寫過施永青先生,我說「他使我汗顏」(見﹕他使我汗顏)
今天讀South China Morning Post,知道多一點他的兒時經歷。在選舉前夕的胡鬧喧嘩中,這是一陣清風,一股清泉。
我的好友阿棠常說在這沒有理想的人間,我們要的是愚公精神。我敬佩施愚公!
我也想起黃家駒的名句﹕放棄了理想,誰人都可以,那怕有一天只你共我。
這首歌應該獻給施先生!
施先生使我汗顏,也鼓舞著我。人生不可無希望,理想切不可放棄!
文章轉貼自 South China Morning Post 網站﹕
http://www.scmp.com/portal/site/SCMP/menuitem.2af62ecb329d3d7733492d9253a0a0a0/?vgnextoid=2d896a7e5723c110VgnVCM100000360a0a0aRCRD&ss=Insight&s=Opinion
Billionaire agent of change
Property tycoon Shih Wing-ching's shock decision to give away his fortune proves his idealism and empathy for the poor remain undimmed
BEHIND THE NEWS, South China Morning Post
Mark O'Neill
Sep 06, 2008
Property tycoon Shih Wing-ching has always gone his own way. He was a fervent communist at 18, throwing stones at the colonial police. Then he went on to embrace capitalism, making a fortune in the property business. Now, rather than hand his fortune on to his family when the time is right, in the Hong Kong way, he has decided to give away his wealth and do philanthropy work in rural China.
Mr Shih, 59, is chairman of Centaline, one of Hong Kong's two biggest property agencies. He established the firm with a friend in 1978, and last year earned a profit of HK$1 billion on revenue of HK$6.4 billion. He owns 45 per cent of the stock.
Earlier this year he stunned Hong Kong by announcing what few tycoons here have ever done before: he was donating all his stock to a family foundation he set up in 2000 and would be giving none of it to his three children. "I have all the money I need for the rest of my life. I lead a simple life and do not want a private jet or an expensive villa," he said in an interview in his modest office in Central.
"I cannot get the money back from the foundation. Even if I wound it up, the law requires me to give the money to other charitable foundations."
Mr Shih is gradually withdrawing from Centaline and handing over daily operations to senior executives. This will enable him to turn the foundation from being a simple donor to other charities into an active player running its own philanthropic projects in mainland China. "My priority is poor villages, to help them become economically self-sufficient," he said.
The foundation will set up a company to invest in projects that raise the income of rural people – such as a processing plant that would turn fruit and vegetables into goods with a longer shelf life and higher market value than the raw products. It will advise them on which crops will bring the best returns, and provide market information they do not have now.
It will encourage co-operatives to take on collective projects that individual farmers don't want to do, such as repairing water pipes and reservoirs, following models in the Netherlands and Israel.
"We will not set up a charity in [mainland] China," Mr Shih said. "That is very difficult: it is hard for such an entity even to open a bank account. Setting up a company is more straightforward."
The theme that runs through Mr Shih's life – from radical student to millionaire boss and now social enterprise philanthropist – is idealism and identification with the poor. Born in Shanghai in 1949, Mr Shih came to Hong Kong with his father, a white-collar employee at a trading company, just before the communists took power. The family, which grew to four sons, lived in a small room above a company warehouse in Sham Shui Po.
The young boy saw squatters' huts of wood and corrugated iron on the nearby hills, where people lived on the edge of survival. "One day I saw a baby abandoned by the side of the road," he said. "The baby was crying, desperate to live. My father told me to leave him alone, saying that we did not have enough to look after ourselves, let alone anyone else."
He and his brothers went barefoot most of the time, saving their shoes for classes or other special occasions. To make ends meet, the family assembled plastic flowers and did other work brought home from the factory: this was common in Hong Kong at that time.
At the age of seven, he saw a group of triad gang members carry a man into the street: the man was shouting for people to rescue him. The triads stabbed him repeatedly with knives and dumped his body.
"Why did society allow this?" he said. "Was it the fault of colonial rule, with the British police standing above the people?"
Like others of his generation, he was attracted to communism and nationalism. He organised student groups at school and was expelled. In 1967, he joined workers in throwing stones and screaming slogans at police sent to quell a disturbance at a factory.
He graduated from another secondary school and spent the next eight years teaching workers at a night school – earning HK$210 a month compared to the workers' pay of HK$250. With so little money, he had to live at home.
But he observed that the economies of capitalist countries performed better than those of communist ones, whose workers tried to escape. The trigger came in April 1976, when security forces in Beijing suppressed students protesting against the Gang of Four: "The Communist Party had become counter-revolutionary," he said.
So he left night school and cut his ties with leftist organisations.
Needing to earn money, he became a messenger in a property company for HK$700 a month: he educated himself by reading the documents he was given to copy. One day he visited a site that his company was going to sell, and concluded that the asking price was too low. So he waited in the lift lobby for the boss, and proposed a way for the company to increase the price by 10 per cent. As a result he was given a new job dealing with pricing, marketing and letting, at HK$1,100 per month.
"But it became clear that, in a large company, your wage is decided not by your contribution but by the market, and you have little freedom of your own," he said.
So he left the firm in 1978 and set up Centaline with a friend. It now employs 22,000 people, of whom 5,000 are in Hong Kong and 17,000 are in 27 cities on the mainland. "My management strategy is minimum interference," he said.
"When you leave people to work on their own, they have the energy to be creative and a greater sense of satisfaction. In most companies, there is strong executive control and staff feel they are like a screw on an assembly line."
In July 2005, he invested HK$100 million in AM730, a free newspaper: it started to break even in June last year.
Even as Mr Shih was building his fortune, he was clear on what he would do with his money. "When my children were young, I told them that I would provide them with an education but nothing more. If you give too much, they have no motivation. A sense of achievement comes from making something out of nothing.
"My children thought this was normal until they went to school, and discovered it was abnormal. But they have not criticised me yet."
Now the moment of reckoning has come. His eldest daughter has returned to Hong Kong after graduating from Cambridge University and is living in a tiny apartment with her boyfriend.
"I will not give her money, but I cannot stop her mother doing so. She thinks the children will need help to buy a home in Hong Kong eventually."
He also told his children that they would not have jobs in Centaline. "A firm should hire the most competent people. If you limit the choice to blood relatives, that will influence the company. I have a responsibility to the 22,000 people who work here, some for 10 to 20 years. When relatives apply, I tell the human resources department to treat them like other applicants."
Mr Shih's decision astonished people in Hong Kong. Most rich families here do the opposite – retain their fortunes and pass their businesses on to their children.
"Mostly, I have had a good reaction from others," he said. "Some suspect what I am doing. I do not want to put pressure on others. They can do as they wish."
Many rich families show charity by donating to their hometowns. But Mr Shih has refused to do this. "I have been approached often by the overseas Chinese committee of my native place, Zhenhai in Ningbo . I told them that they are too rich and I want to help places that are poor."
The idealism of his youth remains intact. "The Marxist criticism of capitalism is valid, especially the unequal distribution of income. In capitalism, dividends go only to shareholders, not workers. This is not just."
The model he proposes is a three-way split of profits – one-third to shareholders, one-third to staff and one-third for investment in the company. "All companies should use this model. What we have now is an accumulation of capital [to individuals] that is growing faster than demand."
The rich have money but already own everything they want; the poor want to spend but do not have the money to do it.
"The subprime crisis was a result of no place for money to go, so that banks lent money to people who did not qualify," he said. "The financial system is deformed, and damaged the real economy."
To spread his ideas, Mr Shih has his own blog and appears frequently on television talk shows. He says religion is not a factor in his philanthropy, although he agrees with some of the tenets of Buddhism and Christianity. He has taken part in charity work as a volunteer, including the annual Trailwalker organised by Oxfam to raise funds.